I have been so busy talking to you all lately, I feel like I have been neglecting some of my BFF's, and sure enough, one of them almost made a big mistake. I am a very territorial person, and even though I don't have any kids yet, I can be very protective of my friends. One of my dearest friends, Kirsten, had fallen for the wrong guy. You guys know I'm no prude, but this man oozed more grease than a Cuban Sandwich on Calle Ocho in Miami. My asshole radar went up the minute I met him, and he couldn't stop staring at me, and 'accidentally' bumped my ass with his hand…like 5 times in one night. Kirsten is an old fashioned girl, and has no idea about my many perversions, she is a 'Vanilla' friend so to speak, and even my fiance Norman was starting to get pissed, and he's the most un-jealous guy ever!
Well, after only a few weeks, she tells me they are engaged. Now I am no rocket scientist, but my friend lives off a sizable inheritance, and this loser drives a beat up Toyota. So I ask her what she sees in him, and she says when they are together he makes her feel so special. I ask how often that is and she tells me only a few times a week. Where is he the rest of the time? At work, at the Casino, home alone decompressing. I ask what he does for a living, and shocking, he's unemployed, for the last year. She tells me she only helps him out when he REALLY needs it, and only goes to the Casino to watch football….riiiight.
I try reasoning with her, and she is completely love struck and blind. She won't listen, even though everyone else is telling her the same thing. Time to take things into my own hands, and do things my way. I know it won't be pretty, but if she is going to give anybody money, I'd rather take it than some scumbag….kidding….maybe.
So after she leaves, I call my good friend Etta. She is devious like me, a knockout, and could be a model as well. She is 6'2″, 135 lbs., size 34DD, 8″ cut and functional. Yes, she is the most passable Tranny you or anyone else has ever seen, and unless she wants you to know, you will have NO idea. So I invite her over, and as we smoke a blunt and do a few lines, a plan comes together. She only knows Kirsten through me, but hates people taking advantage of someone if it isn't her.
It takes a week or so, but I find out John's schedule from Kirsten. He goes to the Hard Rock Casino every Monday night for Football. She doesn't go because it's too smokey, but he likes the bar in the center. I reserve a room in the Hotel part, and both Etta and I get keys. I then show her his picture, and tell her where to find him. From then on she and I will be in touch by text. I also call up Kirsten to see if she wants to hang out instead of staying at home alone, and she reluctantly agrees. It's hard to tell me no!
I tell her to dress up like a club, and show up to get her dressed to kill. I am wearing a Royal Blue dress, the front is cut to my navel, and the back to just above my ass crack. The skirt is to my ankles, but the slit in the side is to my hip. No chance of bra or panties with it, but I love showing off my 32G tits anyway. Poor Kirsten's jaw dropped when she saw me- she was in jeans and a t-shirt. I marched her back to her room, stripped her to her panties and bra, and re dressed her in an old, tight, black dress. It showed off her boobs and ass nicely, and her legs looked great. I then reached down and yanked her panties off saying they didn't match. She reminded me she was an engaged women and I asked "Don't you trust me?" Hehehehe
So off we went to the Casino. This place has a great outdoor- smoke-free area, and we sat down to have a drink. I checked my phone, and there was a text from Etta- her and scummy took a selfie, and his hand was firmly on her ass. I held back, and made sure Kirsten was buzzed but not drunk. About 15 minutes later, I got the real text I was waiting for….
Etta and I had rigged up this mobile video camera in the room. It broadcast to any smartphone, and was on a motion sensor. I waited till she texted he was on the bed. I then told Kirsten I didn't feel so hot and we went back to my car. Luckily tonight I had the SUV, and I asked her to sit in the back with me a few minutes. I took out my phone and brought up the camera. Scummy was kissing Etta, and Kirsten wanted to see what I was watching. I turned the phone so we could both see.
At first, Etta's ass took up most of the picture. Then she moved, and was lip locked. You couldn't really see the guy, but his hands were all over Etta. Kirsten asked who this was, and I told her a friend set this up so I could see the hot new guy she met. Then when the guy begged her to suck his cock, Kirsten went white. She said "That sounds an awful lot like my John…." I said, "Really?"
Then the picture went to his face, and Kirsten knew it was him, but was still in denial. "That looks like him too, but he's watching the game now, and it's his team so I know he wouldn't miss it!" Just as she said that, Ette unzipped his pants, and he wasn't wearing undies, so his cock came right out, and she grabbed the phone, saying, "well he can't have the same birthmark, oh my god, it is him!" I told her to call him, and we saw him reach for is phone to silence it. Etta asked if he had to get it, and he said "no, it isn't important."
I told her to call back again, and this time Etta told him to answer. While he talked to Kirsten, Etta blew him. He was barely able to say he was in the bathroom and couldn't talk before hanging up. Kirsten was boiling. I told her to relax, the show wasn't over. Sure enough, he asked if he could fuck Etta, and she said no, she was on her period. He asked to fuck her ass, saying his girlfriend was so loose he barely felt anything fucking her, and wanted something tight. Etta laughed and said he had to eat her ass first, and he said no problem.
But, before he could sit up, she asked if he liked bondage. He said yes, and she said she wanted to tie him down and squat over him. He told her that would be great, and lied down on the bed. She did one hand to the headboard, then the other. Finally she tied one leg down, but left the other free. Kirsten was crying and asking why I was making her watch this. I said be patient.
Scuzzy John asked Etta to strip for him, and she did- right down to her thong. She then moved the back to the side and squatted over his face. He attacked her ass with his tongue and mouth. He begged to at least see her pussy. She told him she had a really big clit. He said that was even better. She then stood up over him and took off the panties completely- her massive cock booming to life. He couldn't speak, and she dropped down to force it into his mouth. He couldn't breathe, but he sucked it. When she took it out, she asked if he liked it, and he tried to say no, but she put an 'O' gag device over his mouth to keep it open.
She then mounted him and fucked his throat with her cock. Surprisingly, his cock suddenly spurted without even being touched! Etta then laughed at him. I asked if Kirsten was ready to see him. Through the tears she said yes, and we made our way to the room. When we got there, I knocked loudly, and then opened the door. Etta was now fucking him in his ass while he let little grunts out of his now ball-gagged mouth. His eyes got wide when he saw me and Kirsten walk in. He tried to move his free leg, but Etta grabbed it and secured it to the headboard too. She pulled her cock out and it was covered in blood and shit. She took John's shirt, and used it to clean herself off.
Kirsten was dumbfounded. I was amused, and saw that he had been hard again from getting fucked. I went to him and took the ball gag out. He started begging me to let him go- that this thing had kidnapped him, and he was being raped. I handed Kirsten my phone, and she replayed his 'conversation' with her. He was screwed in more ways than one, and went to begging mode. I put the ball-gag back in, and went over to Etta. She was still rock hard, and I asked if she could do one last favor. She smiled, and said "anything".
Now I knew Kirsten had never let any man in her bare. She was too afraid of getting pregnant. I explained to her that Etta was not only Vasectomy safe, but tested just the other week clean. I then helped Kirsten out of her dress, and positioned her pussy just above his face. Etta then came behind, and stuck her raw cock right in Kirstens pussy. I went around to Kirstens face, and asked if she would minded if I fucked him. She just smiled and parted his ass cheeks. I put on my 12″ long by 8″ wide Black dildo, and told her to spit on the head. With just that as lube, I shoved it inside him. It took a good 4 or 5 strokes, but he took it.
Soon Etta said she was cumming because Kirsten was so tight, and held on to her ass. Kirsten was close to cumming, and feeling that cum hit her cervix for the first time, put her over the edge. As fast as Etta filled her, she squirted her own juices out, and Mr. Scumbag's face was getting covered in jizz and pussy juice. When Etta got soft, she let her cock leave more of a cum trail over his face. She also made him watch as her cum dripped out of Kirsten onto his nose. She was even nice enough to lift the gag and feed him some cum. I told the girls he was enjoying this, and showed them his erection. Kirsten helped Etta change the gag out to the open one, and all 3 of us jerked him into a cup.
Etta held his head up, and as I slammed a last stroke fully inside him, Kirsten poured his own cum down his throat. We then all got up and got dressed. I left the dildo inside him. We then put $500 in an envelope, taped it to his chest with a note for the maid, apologizing for the mess and this sick guys fetishes. We also told him if he tried to go to the cops, we had the video of him enjoying getting his ass stretched by a gorgeous tranny, and we may go away, but all of his buddies and family would know what he really liked.
Shockingly, she never heard from him again…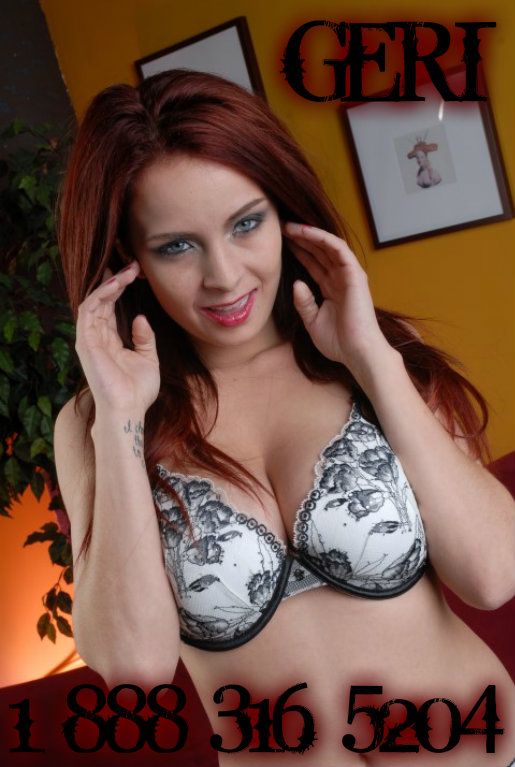 Geri

Read My Other Blogs
Follow Me On Twitter
Chat With Me On AIM/Yahoo: JerkItForGeri
---
History