Remember I told you last week about my new toy Bill? We'd been talking about the whole Cuckold fantasy (which is one of my favorite roles to play) so we decided to make a play date for last Saturday and I finally got to meet his wife! She is really sexy and I can see why Bill loves her, just like him she is a deviant freak too!
We had arranged to meet at a hotel and when I arrived I headed straight to the bar. I saw Bill immediately and I was shocked that the tall, blonde, very attractive woman in the tight black dress he was sitting next to was the wife I had heard so much about, I had honestly never expected her to be so beautiful, or that I would be so attracted to her. I thought it would just be a normal 'pay for play' situation, but I had such a great time I would have done it even if I wasn't getting paid!
We chatted at the bar for a while, and Bill's wife Jane was extremely seductive and alluring, touching my knee as she spoke and holding my eye intently, and it didn't take me long to realize that she was the driving force/instigator behind this entire scenario.
Bill looked nervous as his wife flirted with me, as if he knew what was coming later. She suggested some shots so we got a little tipsy and as the alcohol took effect Jane became more and more extroverted, leaning forward so her massive boobs nearly spilled out of her low cut dress as she spoke. She constantly told me how beautiful I was and how she would love to kiss me, so keeping eye contact with Bill I leaned in and french kissed her, our tongues wrapping around each other messily, and I reached up and fondled her tits as we made out. Bill's eyes nearly popped out of his head and I could see he was shaking.
I stood up and told them it was time to head to the room. We took a very sexually charged and somewhat awkward elevator ride up to the penthouse suite, and the whole time Jane was trying to kiss me and squeeze my boobs as Bill watched on in a mixture of excitement and nervousness.
We got into the room and I sat everyone down on the couch. I went to my bag and pulled out the toy I had brought for Jane, a thick skin tone 9 inch strap on. Her eyes lit up and Bill gulped. "Today is all about teaching Bill that he can't be such a naughty boy, and that if he does, he'll get punished." I said, handing Jane the strap. "Oh I agree!" She squealed and jumped to her feet next to me. "The first thing I'm going to do is fuck your wife Bill, while you watch." I took Jane by the hand and led her to the bed as Bill watched from the sofa. I kissed Jane passionately, then sat on the bed as I pushed her by her shoulder to her knees. I pulled my skirt up to reveal my stocking tops and presented her with the bulge in my panties. "Oh, my." She said when she saw the stiffness of my erection through the fabric. I pulled my panties to the side and allowed my cock to pop out into her waiting open mouth. She sucked me hungrily and worked my shaft with her hand and tongue. She was quite good at sucking and I lay back and let her try and impress me with her fellatio skills, which were pretty good, for a girl!
When my cock was throbbing hard and I could feel the beginnings of an orgasm forming in my loins I sat up and pulled her to her feet. "Strip." I ordered her, and she turned her back to Bill and gave me a slow, seductive strip tease as I stroked my hard dick. She had a pretty good figure for an older lady, and she had made an effort with some sexy black lingerie, a peep hole bra and crotchless panties, black fishnet stockings and a lacy garter. "Come and ride me." I said, and she slowly straddled me, positioning her neatly trimmed and very tight looking pussy above the tip of my cock. "You, come here." I motioned to Bill and he approached the bed. "Get down there. I want you to watch, without touching as I slide my cock into your wife's pussy." I made him put his head right next to my balls, so he had a great super close up of what was about to happen. Jane held my length with her hand and started to push the head of my cock inside her, letting out a loud moan as she swallowed my clitty to the balls. I let her set the pace and she began to buck back and forth, riding me hard, pushing her massive tits into my face which I suckled on. I looked down and saw Bill sitting, mouth open in awe as he watched my thick meaty dick stroking deeply in and out of his wife's pussy, clamping around me tightly and making my balls wet as her juices flowed.
This was just the start of our playdate, I haven't even told you about what we did with Jane and her strapon! Looks like you'll have to call me for a full blow by (ahem) blow description, or just wait for part 2!
I Can't Wait To Meet You!
Alexis XOXO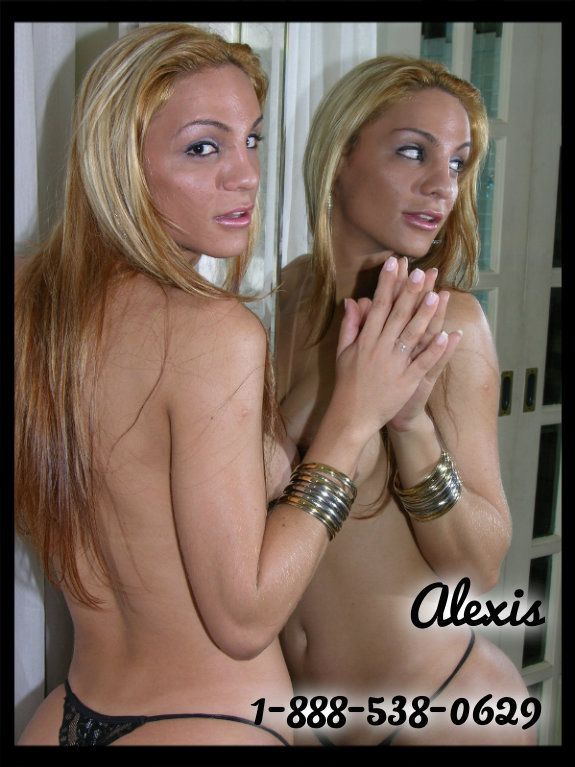 No Limits Tranny Phone Sex With Stunning Pre-Op TS
Alexis
1-888-538-0629
[email protected]
---
History