Well hello to all my new friends! I am new here, but you have already been keeping me so damn busy, I have had no chance to post about it yet! If you haven't called me yet, what are you waiting for?! I am an extremely highly sexed transexual girl and I can't wait to get to know you!
My name is Alexis, and I am the absolute hottest and dirtiest Tranny you could ever want to meet. From an early age, I knew I was different. I was lucky, my family was a very open minded hippie family and let me do what I wanted. My mom bought me Hello Kitty panties instead of Superman undies. My dad not only let me grow my hair, but loved sitting me on his lap and brushing my hair. My sister helped me with makeup around the house, and showing me how to be more girly. My brother, well he liked showing me that I did have a pussy like other girls, and how to use it. We were a very loving family.
As I got older, I started being more and more girly. By high school my parents allowed to get me on hormones, and I got a boob job when I was 18. The only thing I couldn't get rid of was my over-sized clit. I couldn't stop stroking it, and boys were always so fascinated by it when they found it- and girls too!
So here I am- a beautiful looking woman with the depraved sexual appetite of a man. I am the best of both worlds! I'm very versatile, and can be the soft, smooth, gurl you need to satisfy you, or be the dominant Mistress that makes you suck my cock and fucks your little boy pussy. I also love helping guys that aren't sure what they like, and are maybe curious how it feels to pretend you are a woman. I can help you shave, buy lingerie, and indulge your deepest, darkest fantasies.
Call me now, and let's play. As a bonus, if you are super creative, and tell me something I have never heard, I will send you a pair of my used panties as a prize!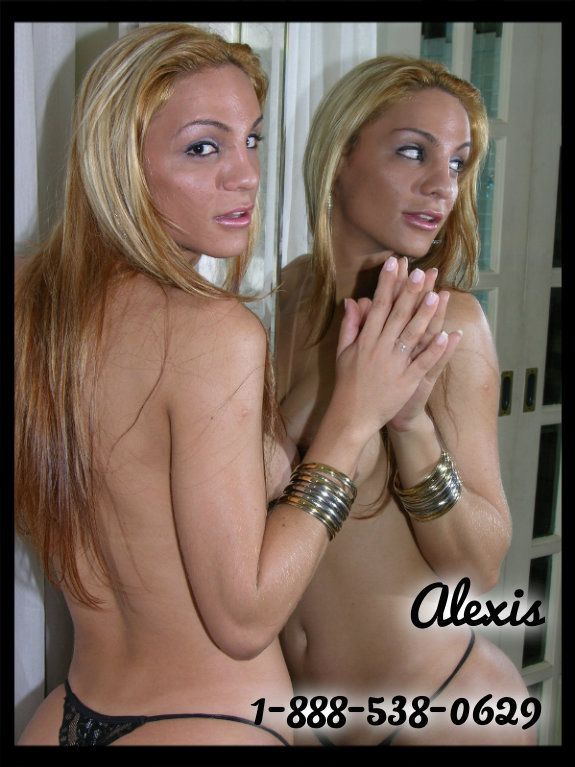 Alexis
The TS Seductress You've Been Waiting For
1-888-538-0629
---
History