Are you a foot guy? Do you love the look, taste and smell of pretty toes and arches? Well I've just been asked to do a spot of foot modelling and I think I'm going to do it! I have a Dominatrix friend who also runs a dating service for guys with foot fetishes, so they can meet girls with pretty feet and have an hour or two of total foot worship heaven. She has asked me before but I've never had the time, but last week she had a 'feet & greet' at a nearby hotel so I decided to strut by…
I wore a pretty pair of strappy high heeled sandals and a short black dress. As I arrived I noticed a group of guys huddled around the entrance to the meeting hall at the side of the hotel. I approached and watched as all of their eyes fell in unison to my freshly pedicured, smooth and dainty feet. I breezed by confidently and the strangest thing! Not one of them noticed my huge boobs or the sparkling smile I flashed as I walked past…just the feet!
As I entered the large conference room I noticed all the men who were outside had followed me in, and were trying coyly to sneak sly looks at my pretty feet and ankles. I spotted my friend and she headed over, and explained how it would work. I basically got paid for a 'speed dating' style session with all these horny foot-fetishists, letting them each have a turn worshiping and adoring my perfectly formed tootsies.
I took a seat and we began. The first guy just loved rubbing the soles of my feet up and down his whole face, pinching his nose between my big and middle toes and slapping himself with my arch.
The next guy just wanted to massage my feet, and it felt amazing, and I got so relaxed I nearly nodded off! I came to when I realized my legs had fallen open slightly to reveal my lack of knickers…Ooops!
The buzzer rang and it was the next guy's turn. He was a short, bespectacled nerdy looking fellow and he was very timid. He sat on the stool in front of me and looked like he was going to die of fright! I placed one foot on his lap gently and invited him to touch it.
That's when something amazing happened, he touched my foot with the tips of his fingers and it felt like a lightening bolt zapped all the way from my foot to my pussy, making my eyes widen and my snatch immediately get wet. He started to rub and nuzzle my feet in a way I've never been touched before, and I leaned back in the chair, it felt amazing! He took his glasses off and put my toes up to his mouth and slowly sucked them individually, while staring deep into my eyes. As he was sucking my toes he was rubbing the underside of my foot with his thumb in a hard circular motion. I felt so good I threw my head back and couldn't control a whimper escaping my lips. I was getting soo horny and I could feel an orgasm building up inside me. By this time I was writhing in pleasure in the chair and I pushed the ball of my foot into his crotch and could feel a throbbing hard on straining against the fabric of his pants…
If you want to know what I did to my lovely nerdy foot-fetishist friend, you'll have to call me! But I will say that having my toes sucked, my arches licked and pussy fucked at the same time is now one of my FAVORITE things in the world, Any girl who hasn't had her toes and foot in a guys mouth while she's getting fucked doesn't know what she's missing!!
Geri
No Limits Phone Sex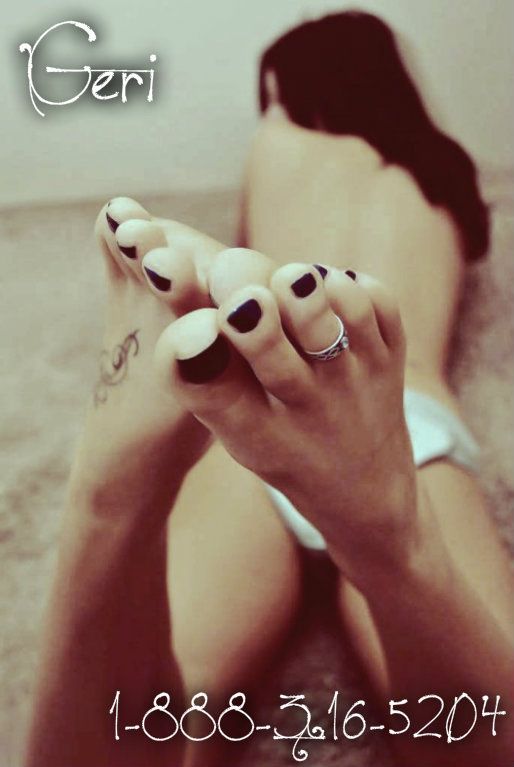 ✦
---
History